Early Intervention Unit (EI)
It was started in August 2011, especially designed to provide services to children in the age group of 0-6 years, who have either some confirmed disability or developmental delay. As part of this intervention, extensive work is done on 8 areas of development which are- physical, motor, activities of daily living, sensory, cognition, communication, socio-emotional and play. Parent Training is a crucial component of this intervention, as parents go through immense guilt and trauma in the early years of child being detected with disability. EI is one of the core programmes at Sankalp, as intervening through rehabilitation therapies in the formative/ early years can lessen the impact of disability to great extent. The session period in EI is 6 months, which is January-June and then July-December. EI runs for 3 hours i.e. 9:00 am-12 noon from Monday to Friday, whereby it is preferred if the child is accompanied with the caregiver.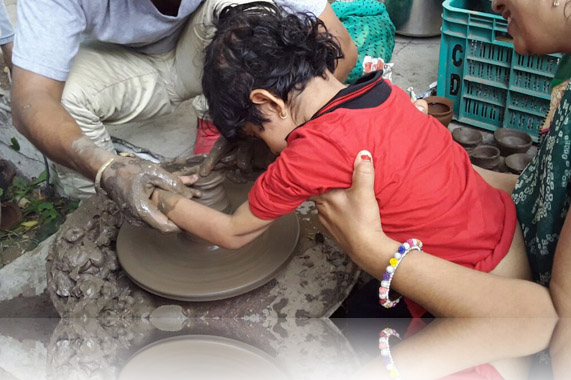 The main idea behind SLC is a follow up to the EI program in order to cater children falling in the age group of 7-17 years of age. SLC got revamped in the year 2016 with the support of 'Informal Parent support from' and 'Vidya Sagar' organization, to begin formally and currently has 4 batches running. Children between the age group 6-12 years follow under 'reception' category, whereby the focus is on 'functional independence relating to activities of daily living and academics' which is inclusive of self-awareness, environmental awareness, feeding, and toileting etcetera. Children between the age group of 12-17 come under 'transitional' category, whereby the focus is on 'functional independence relating to life-skills' which is inclusive of money identification, using basic computers, understanding time, pre-vocational etcetera. Overall as part of this programme, activities of daily living and functional academic support through accessible learning materials and teaching strategies, remains major areas of work. SLC runs for 4 hours i.e. 9:00 am-1:00 pm from Monday to Friday.
All children can and will learn
Out-Patient Department (OP)
OP was the first program at Sankalp, and is always the first engagement point with any child, whereby a detailed assessment is conducted to find out areas of concern. Accordingly, then plans are made at two levels, first being home based plan wherein parents are trained about what all needs to be done, and second is center based rehabilitation wherein the child as per the gravity and type of disability will have to be brought to the center for regular or periodic therapy. Home Modification which means, home visit in order to make the setting of the house more friendly and accessible for the child with disability, is an important aspect of OP, which is organized as per the need. Parent counseling and training remains an important part of OP as for the cases where families do not reside in Udaipur city, and only comes once in a while, requires training of parents so as to equip them to provide a supportive environment for the child with disability back home. OP is an hour, one on one therapy program which is required mostly for the cases like- children not requiring other intensive engagements like EI or SLC; caregivers may not be ready to enroll the child to regular intensive programs; child with the caregiver comes from another city or state; and also in the case if child is going to mainstream school. OP runs from 12:30 pm-6:00 pm from Monday to Saturday.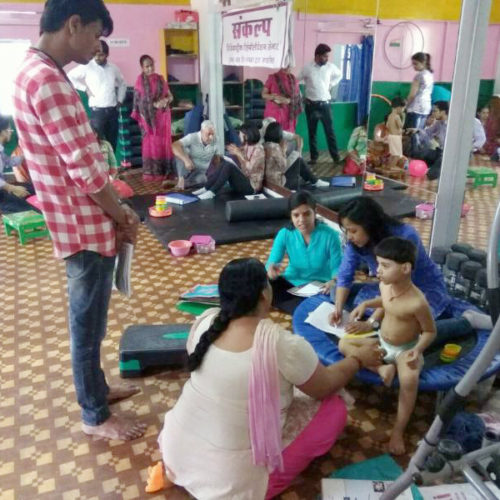 Community Based Rehabilitation (CBR)
CBR is the most recent programme started in April 2017, with the intention that not everyone with need can reach out to us as there is not much awareness in smaller or rural areas, hence we would go to them. Sankalp's approach of doing CBR is- tapping on to already existing organizations/ center who are already working in the field of disability or physiotherapy, to partner with them and then train them in pediatric. Health Plus, a center in Nathdwara is Sankalp's first CBR partner, which has already been working with adults in this field for many years now. The partnership pans out with this center on ground by training its worker's and supporting them with pediatric cases through monthly visits. CBR is like an extended OP program along with spreading awareness by organizing talks/ workshops with parents and community. Sankalp is on a look out for creating more such partnerships under CBR programme with the organization/ center, to be able to provide frequent support.
Sankalp believes in consistent training for staff members and caregivers through workshops, courses etcetera. Vidya Sagar organization based out of Chennai has been a tremendous support in building capacities of the founder members of Sankalp to begin their own training programs. In 2016 a successful certificate course on 'Childhood disorder and Development Therapy' was run for 8 full days over one month, the participants of which were inclusive of teachers, therapists, participants, assistants, caregivers. Frequent one day workshops are also organized for parents, teachers and staff members around the themes of Autism, Toileting, and Learning from external environment, Play etcetera. Besides this, Sankalp also provides training through internships/ observation visits to nursing college students, Home Science college students, Physiotherapy college students and Psychology students from schools. The intention is also to expand by building a 'Teacher Training programme'. Sankalp has a good rapport in its field, one reason of which is consistent engagement with many pediatricians, neurologists, developmental therapists, developmental pediatrician, and other professionals. With its expertise and intention to share the skill and knowledge, newness and advancement is brought in the blood of Sankalp to keep pace with recent trends in pediatric rehabilitation.